PURE EXPANDED STEM CELL THERAPY FOR OSTEOARTHRITIS
A NON-SURGICAL ALTERNATIVE
ReGen is at the forefront of the growing awareness of personalised medicine and stem cell therapies in New Zealand.
Pure expanded mesenchymal stem cells are a non-invasive, non-surgical treatment which can delay or negate the need for replacement surgeries.
Since 2015 we have treated hundreds of patients from 18-89 years of age and at all stages of osteoarthritis degeneration using stem cells grown in our Auckland and Queenstown laboratories.
One in ten New Zealanders live with an osteoarthritic condition. It's ranked the 12th highest contributor to disability in the country.
Using our proprietary Pure Expanded Stem Cell therapy we treat OA conditions in the knees, shoulders, hips and ankles.
PURE EXPANDED STEM CELL TREATMENT CAN REPAIR CARTILAGE
Mesenchymal Stem Cells are stored in our own body fat and research shows they can inhibit inflammation, stimulate blood vessel formation and rejuvenate body tissues.
Mesenchymal Stem Cells also have a tremendous capacity to form a variety of different cells types including, bone, fat, muscle and cartilage.
Our body has the ability to regenerate itself given the right environment.
When injected in concentrated amounts of up to 100 million cells, these Mesenchymal Stem Cells have been shown to accumulate at sites of tissue damage and inflammation making them optimal for the treatment of any joints impacted by osteoarthritis conditions.
During treatment, a patient's own Expanded Stem Cells are injected into an injured area. These cells seek out tissues that need repair and rejuvenation.
Stem cells wake up your natural body repair systems to reduce pain and restore mobility. They are like your own in-house DIY team, treating damage and speeding up injury rehabilitation.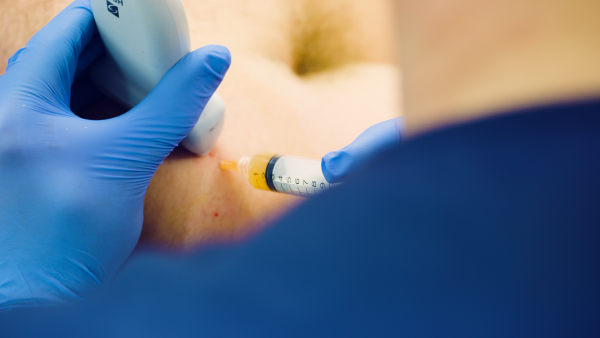 LESS PAIN AND MORE MOBILITY USING YOUR OWN CELLS
Osteoarthritis is a type of joint disease that results from the breakdown of joint cartilage and underlying bone through age, accidents or overuse. There is no cure and traditional methods of treating Osteoarthritis are medication and surgery or full joint replacement. Osteoarthritis causes sufferers an extreme amount of pain, lack of mobility and negative impact on overall quality of life.
Through our treatment, we extract Mesenchymal Stem Cells through a minor liposuction procedure and expand them in our laboratories to create a verifiable pure Mesenchymal Stem Cell solution. This is re-injected under ultrasound guidance into the joint or the damaged area.
When followed up at 12 months, 82% of our patients report less inflammation, pain and better mobility, along with 72% reporting better quality of sleep, less reliance on pain medication and a return to activities.