PURE EXPANDED STEM CELL THERAPY FOR OSTEOARTHRITIS
A NON-SURGICAL ALTERNATIVE
ReGen is at the forefront of the growing awareness of personalised medicine and the only clinic able to multiply cells in its Queenstown based lab.
Since 2015 we have treated hundreds of patients at all ages and stages of osteoarthritis degeneration. One in ten NZ adults live with an osteoarthritic condition and it is ranked as the 12th highest contributor to disability in the country.
Using our proprietary Pure Expanded Stem Cell therapy (PESC) we commonly treat OA conditions in the knees, shoulders and hips.
It is a non-invasive, non-surgical treatment which can which can eliminate the need for replacement surgeries.
PESC CAN REPAIR CARTILAGE
Mesenchymal stem cells (MSCs) are stored in our own body fat and studies show they can inhibit inflammation, stimulate blood vessel formation and rejuvenate body tissues.
MSCs also have a tremendous capacity to form a variety of different cells types including, bone, fat, muscle and cartilage.
When injected in concentrated amounts of up to 100 million cells, these MSCs have been shown to accumulate at sites of tissue damage and inflammation making them optimal for the treatment of any joints impacted by OA conditions.
During treatment, the patient's own pure expanded stem cells are injected into an injured area and seeks out tissue that needs repair and rejuvenation.
Stem cells wake up your natural body repair systems to reduce pain and restore mobility. Our treatment is used for treatment and prevention as stem cells speed injury rehabilitation.
LESS PAIN AND MORE MOBILITY USING YOUR OWN CELLS
Osteoarthritis (OA) is a type of joint disease that results from the breakdown of joint cartilage and underlying bone through age, accidents or overuse.
Specialist Mesenchymal cells (MSCs) can regenerate bone and cartilage and these are stored in our own fatty tissue.
Through our exclusive PESC treatment, we extract MSCs through a minor liposuction procedure and expand or grow them to create a verifiable 95% pure MSC solution. This is reinjected under ultrasound guidance.
The result can be felt days after the procedure and long-term our therapy helps joint pain and inflammation. Joint mobility is often also restored and MRI's show cartilage regrowth can happen from 6 months post-treatment.
Significant Pain Relief for Osteoarthritis Sufferers
Study results showed significant pain reduction with 50% of patients, aged 41 to 60 years, reporting a greater than 75% decrease in pain within 9 months post-treatment. An additional 15% of patients reported a 50% reduction in pain over the same 9 month period. The study results also show a statistically significant improvement in mobility and functionality, of the affected joints, as early as one month following the procedure.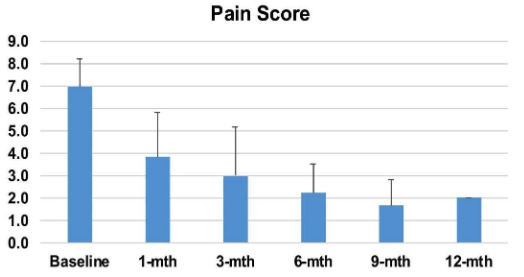 Figure 1. Observed pain improvement over 12 months in those receiving a single injection of 100 million mesenchymal stem cells